This One Wild and Precious Life: The Path Back to Connection in a Fractured World (Hardcover)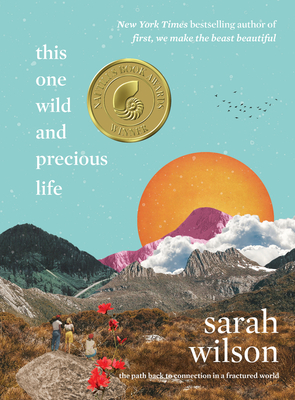 $26.99
Coming Soon - Available for Pre-Order Now
Description
---
"Sarah Wilson is a force of nature – quite literally. She has taken her pain and grief about our sick and troubled world and alchemized it into action, advocacy, adventure, poetry, and true love." — ELIZABETH GILBERT
Will you sleep through the revolution? Or do you want to wake up and reclaim your one, wild and precious life? From New York Times bestselling author Sarah Wilson comes a spiritual guidebook for healing our cultural crisis of disconnection.
We live in truly overwhelming times. The climate crisis, political polarization, and Coronavirus have left many of us in a state of spiritual PTSD. We have retreated, morally and psychologically; we are experiencing a crisis of disconnection—from one another, from our true values, from joy, and from life as we feel we are meant to be living it.

Sarah Wilson argues that this sense of despair and disconnection is ironically what unites us—that deep down, we are all feeling that same itch for a new way of living. This One Wild and Precious Life opens our eyes to how we got here and offers a radically hopeful path forward. Drawing on science, literature, philosophy and the wisdom of some of the world's leading experts, and her personal journey, Wilson weaves a one-of-a-kind narrative that lights the way back to the life we love. En route, she leads us through a series of "wildly awake" and joyful practices for reconnecting again that include:
About the Author
---
Sarah Wilson is the author of the New York Times bestsellers First, We Make the Beast Beautiful: A New Journey Through Anxiety, which redefined the mental health genre, and I Quit Sugar, along with eleven cookbooks that have been published in fifty-two countries. Previously, she was editor of Cosmopolitan Australia, host of MasterChef Australia and founder of iquitsugar.com, an 8-week program that has seen millions worldwide break their sugar addiction. In May 2018, Sarah committed to giving all proceeds from the business to charity. She now builds and enables charity projects that engage humans with one another, and campaigns on mental health, consumerism, and climate issues. Sarah lives in Sydney, Australia, is an obsessive hiker and spent eight years travelling the world with one bag.

Praise For…
---
"Sarah Wilson is a force of nature – quite literally. She has taken her pain and grief about our sick and troubled world and alchemized it into action, advocacy, adventure, poetry, and true love. She's a great teacher and a great leader, and I admire her with all my soul."
— Elizabeth Gilbert

"Sara Wilson is a traveler of worlds, outer and inner. And her reports from the journey are both intensely personal and germane to a sick and distracted world. In the midst of the collective malaise, she zeros in on her determination to live her life, not someone else's, and on the work to which we are all summoned if this species is to survive. Her work is, as the world is, both wild and precious."
— James Hollis, Ph.D., Jungian analyst and author of Living Between Worlds: Finding Personal Resilience in Changing Times

"The inchoate sense that something is missing-- something related to connection and community and meaning-- nags at many of us. This book has some smart suggestions for how to move out of that purgatory, and perhaps, in the process, help build a world that works."
— Bill McKibben, author of Falter: Has the Human Game Begun to Play Itself Out?

"The timing of this book couldn't be more critical. Sarah takes us on a series of wild hikes around the world and shows us how inherently connected to nature we truly are, while also shedding light on how desperately we need to find a new path in our changing world. Wild and Precious speaks to my soul." 
— Emilie Ristevski, wilderness photographer @helloemilie

"Anxiety and disconnection are natural consequences of overconsumptive modern life, argues Australian journalist Wilson (First, We Make the Beast Beautiful) in this vibrant take on how to build a more joyful existence and sustainable world. […] The author ranges widely, interspersing personal stories with interviews, scientific research, and quotes from religious texts, making for a reading experience that has the feel of an impassioned conversation with a friend […] engaging prose and timely advice."
— Publishers Weekly