European Union Law (Paperback)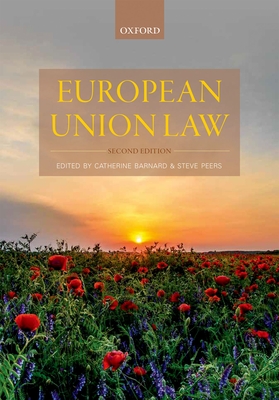 Email or call for price.
Sorry, this book is out of print.
Description
---
Edited by Catherine Barnard and Steve Peers, European Union Law draws together a range of perspectives from experienced academics, teachers and practitioners to provide a comprehensive introduction to EU law. Each chapter has been written and updated by an expert in the field to provide students with access to a broad range of ideas while offering a solid foundation in the institutional and substantive law of the EU. Written by experts, designed for students; every chapter ensures a balance of accessible explanation and critical detail. Case studies are included throughout the book to enable students to understand the context and implications of EU law, as well as helping to familiarize them with some of the most significant caselaw in the area. Quotations and examples from key EU legislation and academic sources are also included to help develop an understanding of EU law, while further reading suggestions for each chapter act as a springboard for further study and assessment preparation. This text provides a fresh and modern guide to EU law and is an ideal entry-point for students new to the subject as well as those looking to develop their understanding of EU law. As the process of the UK leaving the EU unfolds, readers can also visit the OUP European Union Law Resource Centre for up-to-date comment, opinion, and updates created by our authors to engage students with the legal and political issues and considerations at play.
About the Author
---
Catherine Barnard, Professor of European Union Law and Labour Law and Senior Tutor of Trinity College, Cambridge, Steve Peers, Professor of Law, University of Essex Catherine Barnard is Professor of European Union Law and Jean Monnet Chair of EU Law at the University of Cambridge. She is also Senior Tutor of Trinity College. She specializes in European Union law, labour and discrimination law, and competition law. Steve Peers is a British academic and an expert on the European Union. He is a Professor in the School of Law at the University of Essex. He is also the author of the popular blog eulawanalysis.blogspot.co.uk which offers his, and a varity of well-respected contributors', views on all the key developments in EU law.